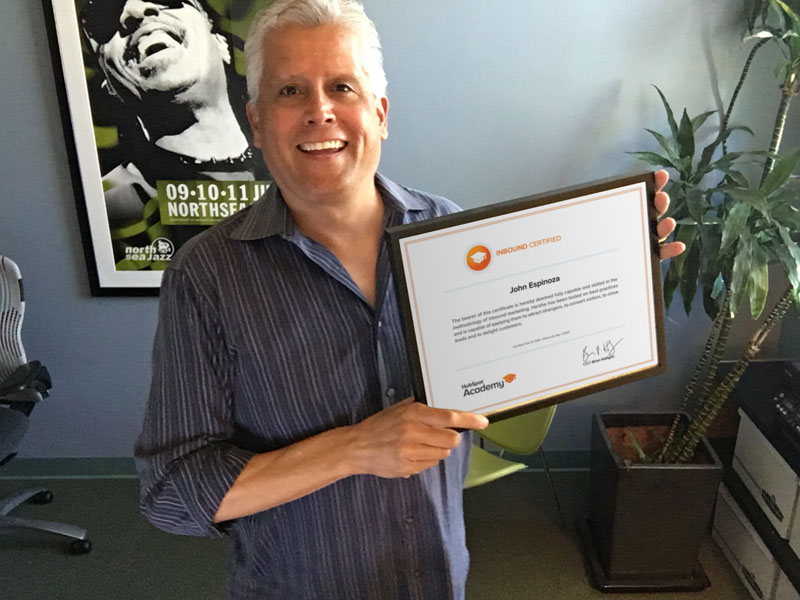 I've spent the majority of the spring and summer (much to my Saturday morning bike group's chagrin) investing in hours and hours of Hubspot Digital Marketing training and testing. The result is that myself and members of my team achieved the

Inbound Marketing certification, HubSpot Software certification, and HubSpot Agency Partner certification, so we can now offer, among other things, the five best-practice strategies to create an engaging and effective online Customer Journey. Because let's face, in today's world of procurement, whether B2B or B2C, it's all about having an effective and engaging customer journey to make the sale.

If you're not familiar with Hubspot, it provides tools for social media marketing, content management, web analytics, landing pages and search engine optimization. HubSpot has integration features for salesforce.com, SugarCRM, NetSuite, Microsoft Dynamics CRM and others. HubSpot's strength comes from providing its customers with an all-in-one approach. HubSpot, taken as a whole it was the best "marketing solution" that combined many tools into one package.
Garnering these certifications provides us with the latest best-practice techniques to convert your company's on-line visitors from "strangers" into raving fans, or brand evangelists, as we like to call them.
While I may have missed a few early morning hill-climbing rides this summer, I am excited to help you scale the marketing summit and generate more sales, donations or qualified leads by sharing our new knowledge base.
If your website is garnering clicks, but not conversions most likely your on-line visitors are not being guided through a strategic and effective customer journey. Perhaps there is a "disconnect" in the on-line sales cycle which you are overlooking. We've found these gaps are best seen by a trained, outside observer.
So let's book some time this summer and put our new Hubspot skills to work on your marketing funnel and increase your conversions.
Here are five benefits you will receive from this consultation.
Marketing opportunities


as a result of studying where you are at right now. Often the gaps revealed are where you can step in and make the most progress.

A plan to get more leads
based on a strategy that is honed from your specific case study

Execute with state-of-the-art tools
You may have several sets of existing digital marketing tools, our plan will help you integrate them so you have the foundation to reach your goals.


Get the most out of every lead
When someone enters your marketing funnel, you'll have a campaign to nurture them from stranger to a raving fan.

Increase the value of your transactions
Test and amplify what's working and test and correct what isn't working.

Do you have a project? Book some time with me by clicking on the button below:
---